Indy Republican's Magic 8 Ball
Good evening everyone! We are less than 24 hours away to the first closing of the polls for the 2022 Midterm Elections. The polls have been up and down and all around. Despite the fact that we don't envy anyone who has to make a prediction on this election, we have decided to consult our Magic 8 Ball (pictured above) and take our best stab at predicting tomorrows election results. We will be pleased if we get 30% of our predictions right, but we might not be that lucky.
U.S. House of Representatives Prediction:
We predict the Republicans will mostly likely pickup 10 to 25 seats to take control of the House. The Democrats will undoubtedly pick up a couple seats from Republicans. We predict that Adam Kinzinger's seat in Illinois and Peter Meijer's seat in Michigan will go to the Democrats, overall the Republicans will gain the necessary seats to take control of the House. We also expect that Alaska Democrat Mary Peltola will keep her Congressional seat. If she does lose we believe it will be to Nick Begich, we don't believe former Governor Sarah Palin will win. Her time in politics, much like leisure suits has come and gone!
U.S. Senate Predictions:
We predict that the Democrats will keep control of the U.S. Senate and the breakdown will be either 51D-48R-1Independent (Assuming Evan McMullin wins in Utah), or 50D-50R maintaining Democratic control with VP Harris as the tie breaking vote.
Here's our map predicting tomorrow's Senate results: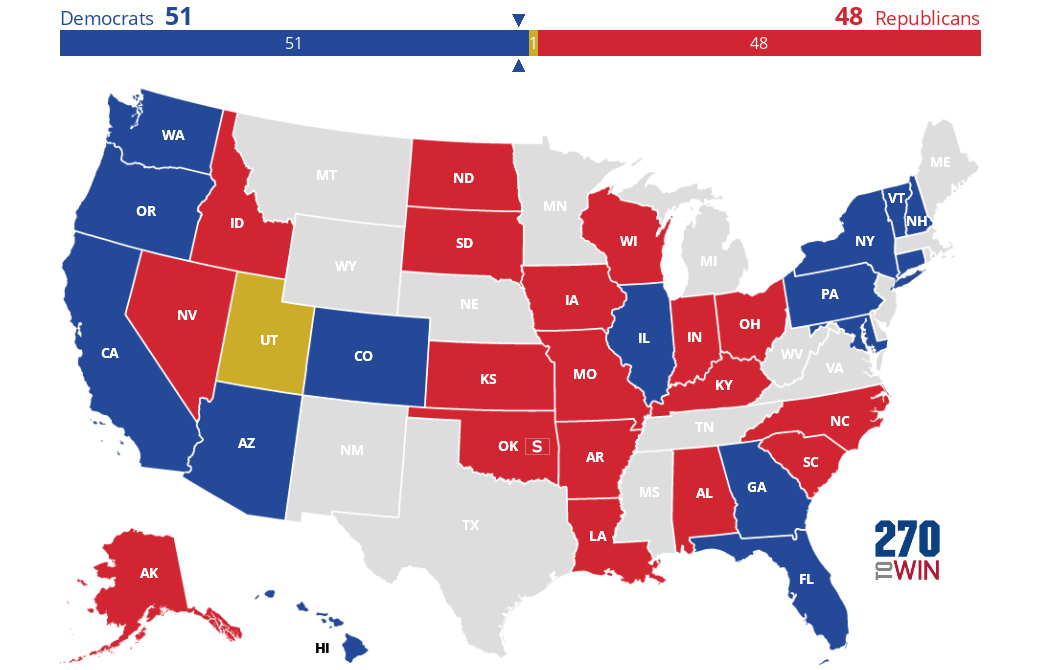 Here are some of our breakdowns of a few Senate races:
Pennsylvania: After the May Senate Primary in which Doctor Memet Oz narrowly won the GOP nomination, he kept continuing to trail Democratic Lt. Governor John Fetterman by a considerable margin in the polls. Recently Oz has been catching up and a few times seems to have polled ahead. This race should be a close one, but we predict a Fetterman win if only because of the Democratic Gubernatorial Nominee Josh Shapiro's coattails.
Georgia: The Georgia Senate contest has been an absolute nightmare for real conservative republicans with former football player Herschel Walker as the GOP standard bearer facing off against incumbent Democratic Senator Reverend Raphael Warnock. This race has been a close one, despite Walker's history of domestic violence, playing Russian Roulette, forcing women to have abortions, and his admitted dozen different personalities. Inspite of the closeness of the polls we predict a Warnock victory, and a 55% chance that this race will go to a runoff just like it did in 2020.
Arizona: Former Astronaut and incumbent Democrat Senator Mark Kelly started this race well ahead of his unhinged fake Republican Challenger Blake Masters. Recent polls have shown Masters gaining, but due to McCain and Goldwater Republicans hatred of Masters we predict a narrow victory by Kelly. In other Arizona news we unfortunately predict former Obama fangirl Kari Lake will win the Governor's race.
Alaska: Due to ranked choice voting we may not know the winner in Alaska for a week or two. But we are confident in predicting that Lisa Murkowski will win reelection to the Senate, due to her strong support in the state and most democrats will pick her as their second choice on their ballot.
Utah: We have
previously written about the Senate race in Utah
between incumbent Republican Senator Mike Lee and Independent Challenger conservative activist and former presidential candidate Evan McMullin. Although Nate Silver's 538 website gives Lee the edge in tomorrows race, we are going out on a limb and predicting a win by McMullin. We are basing this off of the fact that in the GOP Senate primary this year 38% of the vote was against Lee, also we believe the fact that the Lee campaign has shown itself extremely nervous during this race that indicates they aren't so sure they will win. We are saying if McMullin doesn't win it will be a close contest regardless and look for Evan to run again in a couple years for another office.
Nevada: In Nevada we predict that Catherine Cortez Masto will lose to her republican challenger Adam Laxalt. Laxalt seems to be reasonably ahead in this race, and although strange things have happened in Nevada, we don't think Cortez Masto getting re-elected will be one of them.
Wisconsin: In the Badger state we predict unfortunately that Republican Incumbent Ron Johnson will defeat his Democratic challenger Lt. Governor Mandela Barnes, we think this might be a nail bitter though!
Iowa: This is a race that looked competitive in theory anyway, our good friend
Paul Ogden has written about this race
. Unless a miracle happens Senator Charles Grassley will win an 8th term in the U.S. Senate. Which would tie the late Senator Storm Thurmond's record for longest serving Senator assuming he lives out his term he will be 95 then, old Strom was 100 when he left the Senate. Admiral Mike Franken is a good candidate, and has run a good campaign but he should keep his powder dry to run for another office in Iowa.
Ohio: Former Never Trumper turned psychopathic ass kisser J.D. Vance will unfortunately we predict limp to a narrow victory over his opponent Democratic Congressman Tim Ryan. Ryan has run a good campaign and even if he loses he should run again for office. Should Ryan pull off a win expect a lot of talk of a "Draft Ryan" movement to spring up among Democrats. Elsewhere in the Buckeye State Republican Governor and real man Mike DeWine will crush his democratic challenger.
New Hampshire:
Democratic Senator Maggie Hassan has and continues to lead in most polls against her Republican Challenger former election denier and retired Army General Don Buldoc. We predict Hassan holds her seat.
Indiana Predictions:
Here in the Hoosier state we aren't predicting that much in the way of surprises. Let's start with the Secretary of State's race:
Secretary of State: Despite some problems that having been dogging the campaign of GOP Nominee Diego Morales we predict that he will defeat his challenger Democrat Destiny Wells. Political writer and keen observer of Hoosier Politics
Adam Wren wrote an article for Politico
, pointing out that the race could be competitive. So out of respect for Mister Wren's judgement we are giving Wells an outside chance of winning.
Indiana State House and State Senate: We predict the Republicans will lose 1 to 3 seats in either or both legislative chamber, because the GOP has hit it's high water mark and we don't see any poachable seats for them at this time.
Indiana U.S. Senate and House Races:
In the U.S. Senate despite some questionable polls being pushed by a very unethical Indiana radio show host, we are firmly convinced that Incumbent Senator Todd Young will easily win a second term against his opponent Democratic Mayor of Hammond Tom McDermmot.
As for Indiana's House delegation we predict that Democrat Congressman Frank Mrvan will lose to his challenger Republican Jennifer-Ruth Green, changing the House Indiana delegation to 8 Republicans and 1 Democrat. Andre Carson should easily keep his seat.
Miscellaneous Predictions: These are just some assorted predictions we are making for a few other races. We predict the Democrats will win the Secretary of State's race in Arizona, and will pickup the Governorships In Oklahoma, Massachusetts and Maryland. We predict the Republicans will win the Oregon Governor's office for the first time in 50 years and that the Democrats will narrowly hold onto the Governor's office in New York.
Possible wildcards for the midterms:
Tonight in Ohio former President Donald Trump is appearing at a rally for JD Vance. Rumor has it that Trump might announce he is running for president in 2024. If that does occur it possibly could affect turnout in the election tomorrow, although early voting has already hit record highs this election cycle, there are still large numbers of voters who will vote in person tomorrow. Trump announcing a 2024 run tonight we predict will most likely have the following effects for Election Day:
1. Trump announcing a run might light a fire under voters that hate Trump and cause those who have not yet voted to stampede to the polls en masse. Would be ironic if several Trumpist's were to lose because Trump caused his opponents to storm the ballot box!
2. Less likely is Trump's announcement will cause a stampede of Trump voters to turnout.
3. Trumps announcement really doesn't make much difference seeing as it would happen only about 18 hours before the first polls open.
4. A combination of 1 and 2 will occur in which both Trump and Anti Trump voter turnout is increased.
Our gut tells us that option 1 or 4 is most likely to happen. Another thing to lookout for is if any Democrats lose close races and claim the election was stolen. It's true that in 2020 that it was Republicans with the notable exception of Georgia's Stacey Abrams who argued there elections were rigged, but it's not out of the question that some Democrats might decide turnabout is fair play, and decide to give the GOP a taste of their own medicine. But we shall see. Also if Lake, Vance, Oz or other high profile Republican candidates lose will they graciously accept the results or not? We predict Lake and Vance wouldn't, but Oz might if only to try to revive the Doctor Oz show. But other losing GOP candidates might cry foul if they don't win. Let's hope that there aren't too many election disputes tomorrow. Well that's it for our predictions. Buckle up friends! It's going to be a long and bumpy ride!