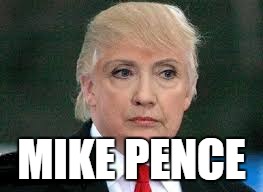 MIKE PENCE AS HILLARY CLINTON
Greetings Brother and Sister rabble rousers! As we have previously pointed out on this blog. The late great Gary Welsh
compared Mike Pence with Rod Blagojevich
. A belief we all share here at IR. But we never thought that we would ever be lumping Mike Pence in with Hillary Clinton but we believe that is a fair and accurate assessment of Pence given his ongoing email scandal and the fact that he used a private AOL email account to conduct state business on. We can all recall how former Secretary of State Hillary Clinton email scandal during her time running the State Department. Mike Pence's email scandal is a long and sordid tale, but it is one that must be told. Miss Hussein is one of the only great reporters remaining at the Langley controlled
"Pravda Indianapolis"
Indianapolis Star. As some of you are aware Mike Pence has been fighting since last year to keep many of his emails he sent while he was governor a secret from we the people. Starting with Fatima Hussein's February 27th, 2016 article Ms. Hussein
writes:
Vice President Mike Pence continued to fight to keep secret a political white paper emailed to him while he was Indiana governor, petitioning the Indiana Supreme Court not to review a public records denial for the controversial papers.
If opened, the communications could reveal a slew of Republican political strategies that Pence and dozens of other U.S. governors devised to fight former President Barack Obama and an executive order of his concerning immigration.
If the justices take the case, the court also could redefine the bounds of open, public communication for Indiana's executive office.

The case stems from a public records request made in December 2014 by Indianapolis attorney William Groth, a Democrat, who was gathering information about the former Republican governor's use of outside counsel for the immigration litigation and its cost to Indiana taxpayers.
Pence produced the requested emails "but those documents included substantial redaction," including a white paper the governor failed to produce, according to court records.
The white paper in question contains legal theories used by many governors in their decision to join State of Texas et al v. United States of America, which challenged the Obama administration's executive order regarding immigration.
After Groth filed suit in Marion County Superior Court, a judge ruled in favor of Pence, saying the redactions the administration made to the public record were "proper."
This January, the Indiana Court of Appeals ruled that Groth does not have the right to view the political white paper, but disagreed with the governor's contention that it would violate the separation of powers doctrine for the judiciary to second guess the redactions.
That was an important finding to advocates of government transparency, who feared a Pence victory in the suit could set a broader precedent that would embolden future governors to refuse to disclose or heavily redact public documents with no court oversight.
Earlier this month, Groth petitioned the Indiana Supreme Court to take up the case.
Indianapolis attorney Greg Bowes filed the 19-page petition on behalf of Groth claiming the appeals court erred in determining that the white paper did not have to be released because it was "deliberative material" for the purpose of preparing for litigation.
Groth is arguing the Court of Appeals improperly applied the attorney-client relationship doctrine because the white paper was emailed to a wide range of people outside of the attorney-client relationship. He is also asking the court whether the court of appeals improperly created a "deliberative materials exception" to state public records.
Calling Groth's lawsuit "unfounded" in court documents, Joseph Chapelle, Pence's attorney from Indianapolis law firm Barnes & Thornburg, last week filed the 30-page response.
Chapelle told IndyStar that the appellate court majority's decision should stand and that if the Supreme Court takes on the case, "it will be an opportunity for the court to clarify the separation of powers doctrine."
In the latest court documents, Chapelle maintains that Pence will use executive privilege as a defense in the future. "There are policy reasons for executive privilege," Chapelle said.
Groth told IndyStar Sunday that he wants to see transparency in government.
"Hoosiers are entitled to and should continue to demand more, rather than less, openness from all governmental officials, but especially from their governor," he said
The fact that Pence has an attorney from Barnes and Thornburg handling this situation is enough to make us think Pence is terrified of these emails being publicly released. Longtime readers of Advance Indiana and Ogden on Politics will recognize the name Barnes and Thornburg. They are the law firm that has represented the state in the FSSA Privatization debacle, also they fought like hell trying to save former US Senator Dick Lugar's butt! Word is that they went so far as to get WXIN the Fox affiliate in Indianapolis to spike a story about Lugar's residency issue that the station had planned to air in 2011 click
here
to read Paul Ogden's recounting of that incident. Other nefarious individuals associated with B&T over the years have included: Former Marion County Prosecutor Scott Newman and Democratic State Rep. Ed "Why Did I meet with some mysterious person in a Parking Lot" Delaney. We are especially curious as to what Mr. Chapelle's reasoning is behind his claim that "There are policy reasons for executive privilege." That Pence is claiming as to why these emails shouldn't be released. For what policy is Chapelle referring to? And what policy could possible trump our right to know what Mike Pence was doing with the taxpayers money? This sounds a little to much like Nixon's bullshit claim of executive privilege during the Watergate Scandal!
Ms. Hussein wrote in her November 21, 2016
"Pence's legal team argues to keep emails secret":
"The statute (Indiana Access to Public Records Act) itself cannot get into the governor's personal papers," said Joseph Chappelle, Pence's attorney, from the Indiana law firm Barnes & Thornburg, referring to the legal bounds of the Indiana Access to Public Records Act.
Legally, the burden is on the governor to prove the documents are protected from public purview.
What we are curious about is if these were Mike Pence's "personal papers" as his lawyer says they are then why did he email them to 30 or so different people in several different states? Since it is Pence's job to show why these documents in question should be shielded from public purview it is reasonable to assume that he would not have sent such sensitive information to over two dozens parties! So either he believed they were sensitive at the time and chose to brazenly send them out to 30 people. Or more likely in as we believe he only adopted the stance that these emails should be kept secret when Mr. Groth asked for them. It is true that Pence's office had large amounts of his AOL emails that he sent out turned over to now Governor Eric Holcomb's office recently after he was called out on the carpet. But Pence's continued pursuit of keeping some of his official emails secret inspires no confidence in him. Pence might as well put on a blonde wig and a blue woman's business suit. Based off of his lack of transparency with his official emails the verdict is in. Mike Pence is now Hillary Clinton.

Update: WISH-TV has a story about Mike Pence defending his use of a private email account for state business. As usual his Propaganda Minister Spokesman Marc Lotter talks about how great his boss Mike Pence is. Click here and here for our past posts about Lying Marc Lotter.